Tahun 2016 ini, Peek A Book rencananya selain ikutan Reading Challenge di berbagai blog, juga mau ngerekap buku-buku yang paling banyak dibaca sepanjang tahun 2015. Rencananya, setiap bulan akan posting 5 Books with The Most Readers. Semoga rencana ini bukan hanya rencana yaa, tetapi bisa dilakukan setiap bulannya, sekaligus untuk merekap buku apa yang paling banyak diminati oleh sobat Peek A Book. Tapi, bukan berarti buku lainnya nggak diminati lho yaa.
Peek A Book melihatnya dari review yang Peek A Book tulis di blog ini. Dan juga dari banyaknya sobat Peek A Book mengintip setiap review tersebut. Oke, tanpa perlu berlama-lama lagi, Peek A Book hadirkan 5 Books with The Most Readers in this blog selama tahun 2015 :
1. She (Fianer) Book 1 - Alvika Dae
[465 Readers]
Aku ingin laki-laki yang seperti Ayah. Dingin saat menghadapi dunia, tapi hangat saat dihadapan Bunda. Aku tahu laki-laki seperti itu sangat langka. Tapi aku menemukannya. Apa kau tahu? Dia adalah laki-laki yang paling aku sukai. Dia selalu membuatku marah, menyebalkan dan tak segan menyakitiku baik dengan kata-kata maupun perbuatannya. Tapi aku sangat menyukainya. Sangat-sangat menyukainya.
[442 Readers]
Apa cinta itu segalanya? Tidak cukupkah hanya dengan aku berada disampingmu dan selalu setia kepadamu? Kenapa kau memintaku mencintaimu kalau akupun tidak berharap kau mencintaiku? Karena bagiku, cinta adalah perasaan sentimentil seseorang yang tidak bisa mengendalikan dirinya sendiri -Erfan-
3. She (Fianer) Book 2 - Alvika Dae
8 tahun yang lalu.. aku bertemu dengannya. Dia memiliki senyum tercantik yang pernah aku lihat. Dan saat itulah aku jatuh cinta.
7 tahun yang lalu.. aku memintanya menjadi kekasihku. Tak peduli dengan apapun, gadis itu menerimaku. Dan saat itulah aku bahagia.
6 tahun yang lalu.. Hubungan kami berakhir. Dia meninggalkanku dalam kepsrahan. Menangis dan putus asa. Dan saat itulah aku kehilangan.
5 tahun yang lalu.. aku berpisah dengannya. Dia pergi, aku pergi. Kami menjalani hidup sendiri-sendiri. Dan saat itulah aku mati rasa.
Tidak peduli apapun yang terjadi, aku akan menjemputnya kembali.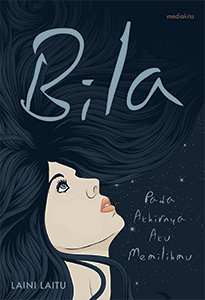 Bila menatap nanar kedua mempelai yang ada di depan penghulu, duduk dengan tegap, dia adalah Fadli, sahabat Bila. Seharusnya Bila berbahagia melihat sahabatnya mengawali hidup baru. Iya, seharusnya begitu. Namun, faktanya saat ini, hati Bila sesak melihat prosesi itu.
Bukankah seharusnya Bila yang ada di sana, di sampingnya? Seharusnya Bila yang menghabiskan masa tua bersamanya. Seharusnya Bila yang menjadi mempelai wanita. Sedikit egois memang, tetapi faktanya Bila lebih mengenal Fadli daripada wanita itu. Bila lebih mengenal Fadli luar dalam dibandingkan dengannya. Bila tahu rutinitas apa saja yang dia lakukan setiap hari. Bila tau apa makanan favorit dan makanan yang dibencinya, bahkan Bila juga tahu berat badannya. Bila tahu segala hal dalam diri Fadli, tetapi mengapa justru wanita yang baru satu bulan mengalihkan perhatian Fadli yang kini menjadi pendampingnya. Kenapa, Tuhan?
5. My Fiancee is A Secret Agent - Mayya Adnan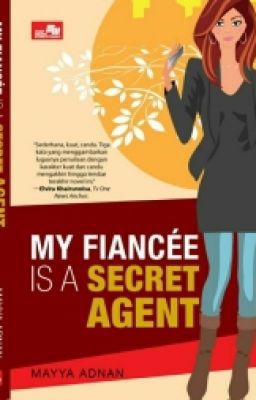 Radisti Putri Mahesa, seorang desainer muda yang berbakat, cantik, menarik, dan juga cerdas. Ia adalah satu-satunya anak perempuan di keluarga Mahesa, sebuah keluarga yang berpengaruh di Indonesia. Tak heran jika sikapnya terkadang manja dan sangat jail. Tetapi di balik kehidupan keluarganya yang bahagia dan karier desainernya yang cemerlang, ia mempunyai kehidupan lain yang tidak diketahui siapa pun termasuk keluarganya. Kehidupan yang tak pernah disangka-sangka….

Paundra Pratama Danubrata adalah putra kedua dari keluarga terpandang, keluarga Danubrata. Dia memiliki wajah yang tampan, pintar dan berwibawa. Sikapnya yang sangat mandiri membuat dirinya tidak suka terhadap semua perempuan manja. Ketika keduanya dipertemukan melalui pertemuan yang tidak disengaja, apakah mereka akan saling cocok satu sama lain? Atau mungkin lebih dari itu?

Nah, udah tahu kan buku mana aja yang paling banyak readersnya di blog Peek A Book? 3 buku teratas ditempati oleh novel karya mbak Alvika Dae. Kebetulan novel mbak Alvika Dae ini diterbitkan secara Self Publish. Dan hanya bisa didapatkan melalui penulisnya langsung. Sedangkan novel yang ke-4 dan ke-5 diterbitkan secara mayor. Kalau novel Bila karya mbak Laini Laitu diterbitkan oleh Media Kita, My Fiancee is A Secret Agent karya mbak Mayya Adnan diterbitkan oleh Elex Media Komputindo.

Kalau kalian, di semua review yang sudah ditulis di blog Peek A Book, buku mana saja yang paling berkesan untuk kalian? Sharing yuks di kolom komentar bareng Peek A Book.