Setelah kemarin guest post menuliskan
Let's Learn with Steven
, kali ini guest post
Peek A Book hadir lagi dari sobat Peek A Book. Tentu aja yang dibahas mengenai buku.. Yeay..
Guest post kali ini dari mbak Dila. Apa ya yang mau beliau tulis? Cekidot yukz..
Seorang pembaca, khususnya penggemar fiksi, tentunya memiliki satu atau beberapa pengarang kesukaan. Saya sendiri pun begitu, memiliki beberapa pengarang kesukaan yang entah kenapa hampir semuanya merupakan penulis dari kategori fantasi. Ya jelas karena saya memang penggemar fantasi hehe. Salah satu pengarang yang saya gemari adalah Jonathan Stroud.
Jonathan Stroud lahir di Bedford, Inggris pada 27 Oktober 1970. Ia menyelesaikan pendidikannya di bidang sastra Inggris di Universitas York dan bekerja sebagai editor/ Kemudian ia menerbitkan buku karangannya sendiri dan berhasil mendapatkan sanbutan yang meriah dari pembaca.
Stroud menulis banyak buku single (kayak lagu aja hehe), maksudnya buku yang nnon-serial. Ia pun juga menulis dua serial yang keduanya menjadi fenomenal di kalangan pecinta buku. Jujur saya agak terlambat mengikuti perkembangan daripada hasil karya Pak Stroud. Baru beberapa saja yang saya baca dan ulas seperti serial di bawah ini:
1. The Amulet of Samarkand (2003)
Buku pertama serial Bartimaeus ini bercerita tentang petualangan Jin tingkat menengah bernama Bartimaeus dan masternya, seorang anak laki-laki bernama Nathaniel. Petualangan mereka ada hubungannya dengan amulet luar biasa yang berasal dari Samarkand.
Baca ulasan buku ini di blog kami.
2. The Golem's Eye (2004)
Petualangan Bartimaeus dan Nathaniel berlanjut. Kali ini mereka harus memburu pengacau kota London yang sudah sangat meresahkan masyarakat, khususnya penyihir.
Buku yang kedua ini sedang saya baca ulang. Namun ulasannya sudah ada di blog saya. Buka di sini.
Buku ini kurang lebih masih bercerita tentang petualangan Barti, Nathaniel, yang kini juga bersama Kitty. Bersama-sama mereka bertiga menghadapi konspirasi yang kompleks. Baca ulasannya di sini.
4. The Ring of Solomon (2010)
Buku yang keempat ini merupakan prekuel dari kisah petualangan Bartimaeus. Ketika itu Bartimaeus melayani Raja Solomon, Raja bagi bangsa jerusalem. Ulasannya bisa dibaca di sini.
1. The Streaming Staircase (2013)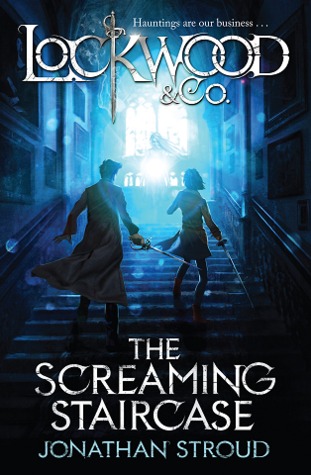 Buku ini menceritakan tentang kota London yang sedang mengalami kondisi darurat, yakni mewabahnya hantu. Maka sebagian masyarakat membentuk agen-agen hantu dengan mempekerjakan anak-anak belia yang masih awas dalam mengenali hantu. Lockwood & Co. merupakan salah satu agen beranggotakan 3 orang. Agen ini terkenal dengan jumlah anggota yang paling sedikit namun juga paling fenomenal.
Baca ulasan saya di sini.
2. The Whispering Skull (2014)
Buku kedua ini bercerita tentang petualangan Lockwood & Co. dalam penyelidikan makam dokter kejam yang hidup pada masa Victoria. Ketegangan terjadi ketika salah seorang anggota Lockwood & Co. disandra dan hampir mati karena arwah dokter kejam itu.

Sayang sekali ulasannya belum saya tulis

.
Buku ketiga ini sepertinya masih ada kaitannya dengan spirit yang terperangkap dalam toples berisi tengkorak milik Lockwood & Co. Terjemahan Bahasa indonesia buku ini sepertinya masih dalam proses. Duh sudah ndak sabar baca The Hollow Boy. Sudah ndak sabar ketemu sama tokoh yang karakternya kurang lebih sama seperti Barti, sama-sama suka berkomentar iseng. Hehe.
Well, sepertinya sekian tulisan saya yang sedikit ini tentang Stroud dan beberapa karyanya.
Waahh.. Bacaan dari Mbak Dila benar-benar membuat Peek A Book jadi pingin baca. Sepertinya, itu buku yang dulu saya pingin deh. Dan maybe, someday, bisa baca buku tersebut, kalau moodnya dapat dan suasa

na juga pas banget.

Buat yang ingin kenalan sama

Mbak Dila

, bisa dicolek di akun

Twitter

|

Goodreads

|

Blog

.
Terima kasih,

Mbak Dila

, sudah mampir ke Peek A Book. Untuk guest post selanjutnya, nantikan yaaa, only on Peek A Book.